Welcome
A warm welcome to you and your child. Here in Presentation Primary School we take great pride in providing a welcoming, caring, nurturing and safe environment in our school. We take a holistic approach to the development of children and encourage a positive approach to learning. We give pride of place to the development of the social qualities of honesty, sincerity and courtesy. We are dedicated to the health and wellbeing of pupils and staff and we are actively involved in the Health Promoting Schools initiative.

Presentation Primary School is based in the heart of Limerick City and has a rich history having been set up in 1837 by the Presentation Sisters.

We hope that you enjoy visiting our school website and that it is a help to parents/guardians and members of the school community.
Latest Photographs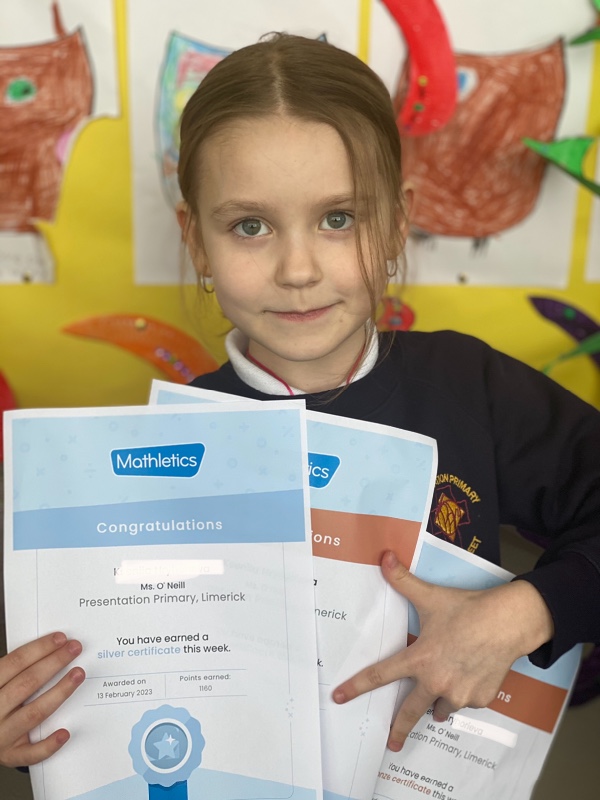 Busy sowing the bulbs in compost
We enjoyed redecorating and personalising the old Fairy Houses !
Our Amber Flag Student Leaders did a wonderful job going to classes today to discuss strategies that help with our Feeling of the Week!
Garden compost, bulbs and pots for school !
Our acrylic paint will dry and become waterproof
We used acrylic paint to restore the fairy houses !
Watering and maintaining our Miniature Fruit Trees
First glimpse of Liatris Spicata!
Car full of supplies for our garden!
Liatris Spicata flower growing well in its pot!
Sixth class busy painting sea shells, stones, pebbles, Bug Hotels and old Fairy Houses !
6th class busy restoring old Fairy Houses and decorating Bug Hotels the children made themselves
Labelled pots with purple flowers planted
Woodies DIY supplies for school!
Volunteers at Thomond House delighted with our food can collection. Thank you to all our staff who donated!
Getting supplies in Woodies
Our Vision Board for our Childrens Garden area..inspired by some of the children who won prizes in My Dream Garden Competition!
Our Bug Hotels are ready to be varnished !
We labelled all of our flower pots after sowing the bulbs
We enjoy learning how to plant bulbs for our Children's Garden area
We took care of our Ballerina Apple trees by watering regularly
We made sure to label every plant pot!
Our miniature Ballerina Fruit Trees
Presentation Primary School, Sexton St, Limerick, Ireland | Phone: +353 61 412 494